Aqua – Control Compact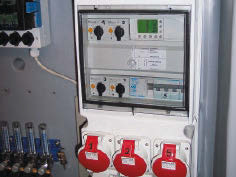 We have developed a further extension to our Aqua-Control system for quick and easy use in fish farms. The basic concept for this compact system is to supply a complete pre-wired unit that can be brought into operation in fish farms with little installation and wiring effort.
The plastic switch box is completely pre-assembled and wired. A PLC display module is visible which constantly displays the actual values of the connected oxygen probes. The integrated keypad can be used to set the desired target values of the input systems and, in addition, an alarm threshold. Furthermore, the switch box contains a Residual Current Device (RCD), the necessary motor protection switches for the connected devices as well as the control relay for the sockets of the input systems and the solenoid valves of the oxygen supply line.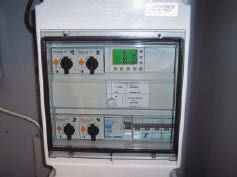 Motor protection and RCDs of the devices are constantly monitored (in addition to the oxygen value) and, in the event of irregularities, forwarded to an alarm switching device via a potential-free contact. The connection of further signal transmitters (such as float switches, level monitors or temperature probes) can be achieved easily. Five sockets are located on the lower half of the switch box: four controlled sockets for plugging in the input systems and another for flexible use. Also included are four sockets for connecting the oxygen probes.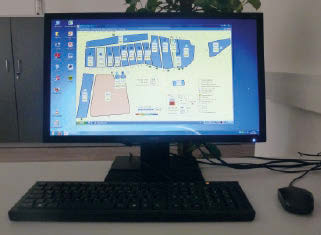 Aqua Control compact is designed for rapid application. Only the power supply line, the oxygen supply line and a control line (if the system is to be connected to an alarm centre or a PC) are to be connected on site. All other wiring is already in place. All you need to do is plug in your input systems and the oxygen probes!
The most convenient solution is to combine Aqua-Control Compact with a computer. By means of a 2-wire USB line, the PC enables a central setting of all pre-sets and alarm values. The actual values can be displayed in your personal pond view. It is also possible to record the O2 saturations over any length of time.