LOXY®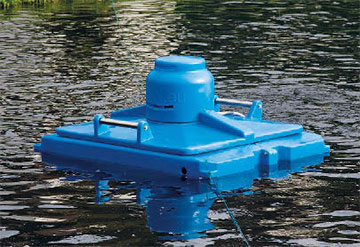 This new enrichment system contains a novel rotary mixing mechanism within the plastic body. This is driven by an electric motor located above the water surface. This mixer propels the water outwards in the contained system, due to its rotation. The resulting fast-flowing water generates a vacuum, and pure oxygen is drawn in and entrained through a tube in the mixer, and is distributed in very fine bubbles within the water.
With the help of this new invention, LOXY® achieves a very good level of oxygen enrichment with low energy consumption. Previous systems worked with 'bottlenecks' (for example, the venturi nozzle – disadvantage: a relatively high water pressure is required) or with wheels or brush wheels (disadvantage: a lot of energy is required to move the water) Compared to these systems, LOXY® has the advantage that, due to the rotary mixer, only a very small portion of the water needs to be accelerated; no water pressure is required.
A fluidised bed that lowers energy consumption and leads to excellent oxygen enrichment is created on the surface of the novel rotary mixer. The main plastic body of LOXY® is shaped such that water is sucked up from below and exits through an opening on the side. Therefore, short-circuiting cannot occur. The main body is enclosed by two floats. All of the plastic parts are made of polyethylene and are extremely robust.
This elegantly simple LINN development does away with submersible motors, belt drives and external bearing blocks. LOXY® uses a durable, energy-saving electric motor (according to the latest IE3 standard) with a stainless steel shaft on which the rotary mixer is directly mounted. The drive is thus completely maintenance-free! The electric motor is located in a protective housing on the body base and can be removed easily and quickly. LOXY® does not need any screens to protect the fish or exclude leaves, so clogging within the system is impossible!
LOXY® is supplied assembled, ready for use and with a 20 m cable and a motor protection plug.
Technical Specifications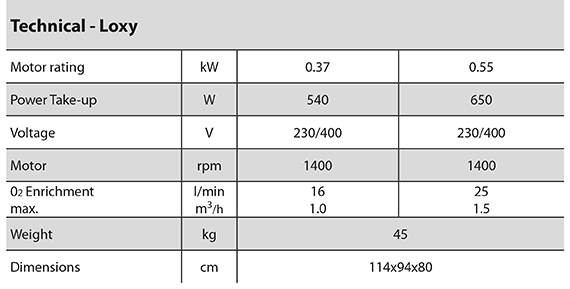 Advantages
Low energy consumption – very efficient
Pioneering technology
Safe operation
Maintenance-free
Lightweight and compact
Clog-free
Great value for the money